Designed for Metal Fabricators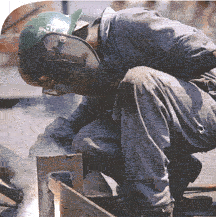 Tavis Manufacturing is unique because it has been designed specifically to meet your needs as a metal fabricator. No longer are you limited to software packages built for the masses, which attempt to meet the needs of multiple industries. While offering features that are redundant to your industry, these products may only satisfy your requirements through customizations. We have designed a specialized product that is powerful, reliable, and easier to implement.
Tavis Software's goal was to develop a top quality product for this vertical market at an 'off the shelf' price. Many ERP implementations fail because of cost overruns from customizations. This can be avoided with Tavis Manufacturing because of its specialized nature.
Some of the special features revolve around the handling of dimensional inventory. For example:
tracking in-stock sizes of plates, angles, bars, etc.;
purchase orders with plates priced by the pound yet ordered by the plate;
tracking individual material pieces by lot codes to comply with ASME standards;
calculating material weights and extending them throughout the application.
Quick Installation
Installation is quick and painless. Since our product is designed specifically for metal fabricators, we do not need to perform a long and complex configuration process as many other ERP vendors do.
Lasting Support
After the installation, we will continue to support your implementation efforts every step of the way. Tavis Manufacturing is sold directly by the application designers and developers, not through third party resellers. This ensures that the support that you receive is of the highest quality. When it comes to the enhancement of the product, you can be assured that your opinion will be heard.
Multi-Language
The user interface in Tavis Manufacturing can easily be switched between French and English. Additionally, many pieces of data are stored in multiple languages. This allows documents such as Invoices, Purchase Orders and Cheques to be printed in the language of the business partner.
Effective User Interface
Much care has been taken to ensure that the user interface is consistent throughout the application. Hot keys, incremental search mechanisms and other short cut techniques make mastering Tavis Manufacturing a breeze.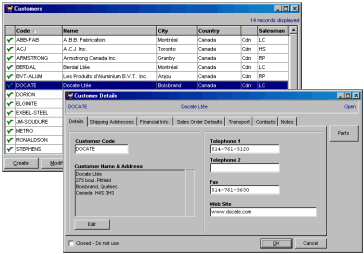 Integrated Report Designer
Tavis Manufacturing contains a full-featured Report Designer that allows you to customize standard reports or create your own. It has an equivalent feature-set to standalone products like Crystal Reports«, but is far more effective and easier to use. As the reports are integrated into the application, you gain the benefit of protecting sensitive reports by using the existing application security.