The production control modules are designed to reflect the reality of a metal fabricator's shop floor. From planning to procurement, progress tracking to costing, every step of a job can be recorded, monitored and analyzed. Tavis Manufacturing is flexible enough to satisfy the wide variety of work our customers perform.
Custom Work Orders
Custom Work Orders support engineer-to-order jobs. A Custom Work order can be related to a single or multiple Sales Order line items.
Stock Work Orders
Stock Work Orders enable the production of standard parts to stock. A single stock work order can be used to produce multiple parts. Completed parts can be received into inventory while a job continues.
In-House Work Orders
In-House Work Orders are invaluable for tracking the costs of maintenance jobs, R&D projects and machine enhancement work. All of the work order types have a common set of features to manage a job through its entire lifecycle
Bill of Manufacturing
The bill of manufacturing provides the description of the assemblies, parts, labour, sub-contract and non-inventory material that goes into a job. The assembly hierarchy can be created to any depth. Assemblies can easily be copied and pasted between jobs enabling the reuse of previous job planning.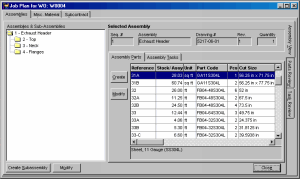 Procurement
The procurement phase of job planning consolidates all the material specified in the bill of materials, which allows the planner to ensure that the necessary material will be available for a job. Material can be purchased directly for a job or issued from inventory.
Labour Progress
The labour progress screens enable you to identify problem jobs and take action before it is too late. Hours can either be broken down into totals per standard operation or totals by tasks that are specific to a job. Job progress reports can be entered to update the current job completion percentage and the remaining hours.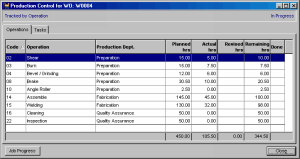 Cost Summary
The cost summary screen provides dollar value totals broken down into the major cost groups. Drill down facilities are available to further break down the costs. Both detail and summary reports are available to produce hard-copy versions of job costing.